After visiting so many houses over the peninsula, I started to make note of characteristics that we found ourselves ooh-ing and awe-ing over. Maybe it'll help us find the perfect house, or maybe it'll just make it impossible to find a perfect house. Who knows!
House things that we like:
-
Multi levels
Up, down, sideways - I like the variation and partition effect of each room having it's own unique place in a house. Not so much the one-itty-bitty-step tripping hazard, but a good two stories, or couple of steps down to a sunken den is cool with me.
-
Vaulted ceilings
I don't know, they just seem more impressive to me. Plus if you ever wanted to get a living room trampoline like in the movie "Big", you wouldn't hit your head on the ceiling. Sak especially likes the floorplans that include an overhang from the second story, perfect for throwing parachute men from.
-
Under stairs storage
Harry Potter!!!
-Laundry chutes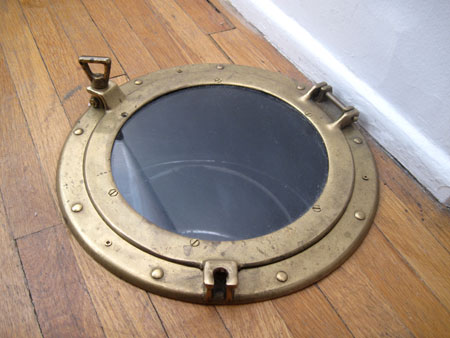 (source) This one screams "steampunk", doesn't it?
Okay so we haven't seen any in real life yet, but they are still oh-so-awesome. No need for a cumbersome hamper either! Dirty clothes could pop out directly into the washing machine, or at least in a laundry room. Dumbwaiters are awesome too, but I don't think they make them in Penga-size. And yes I know those are called "elevators". Pshh.
-Sunrooms
Just imagine curling up like a cat on a big bean bag in the sun, minus the bugs and wind of the outdoors! What? There's no sun in the Bay Area?
-PA Systems
Okay, so we went into one old house that had one installed
in every room
, even the bathrooms! It was awesome, and now I want one. Imagine how you could scare guests by talking from a camoflauged PA in the bathroom?! It's almost as good as our current bathroom, which automatically locks you in if you shut the door all the way. Gets 'em every time.
-Trap doors
Must have. But I'm sure that if the house we end up with doesn't have one already - we'll just make our own.
-Accessible attics
They're just kinda creepy, eh? Like Beetlejuice or something.
-Redwood trees
How awesome would it be to have a big fat one in your backyard?! It's like having a big sign that says "I LIVE IN CALIFORNIA", but not as flashy. Flashy would be a palm tree - and even then you could be living in Florida or Hawaii.
Anyway, that about sums up the type of things that make us gush over a house. Do you think we can find one that has it all? I'm doubtful, but having some of these things would be nice!
What kind of house things do you like?